Millions of people bought copies of a book called The Secret that claimed to offer a magic formula for creating prosperity and abundance and "attracting" whatever you want.
Millions of other books have been sold claiming to offer magic formulas for developing an abundance mentality, how to attract money, prosperity thinking, wealth consciousness, on and on.
On top of all those books, zillions of DVDs, CDs, ebooks, online courses, videos and audios have been shared also claiming to offer magic formulas.
All told, millions of people have spent God knows how much time, money and energy applying the magic formulas for manifesting abundance.
And this isn't just happening now. It has been going on throughout all of recorded history.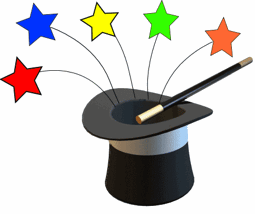 So here are two million dollar questions for you …
Is the world a more prosperous and abundant place as a result of all that time, money, energy and effort?
Is the average person who applied the magic formulas (including you) experiencing more prosperity and abundance

on a consistent basis

?
The truth?
No.
Oh sure, there are lots of stories about people who applied the magic formulas and experienced more prosperity and abundance, but …
Some are true, many aren't true, and the vast majority experienced temporary increases in abundance that didn't last.
And don't even get me started on whether their overall quality of life improved, even if their net worth or bank account did (although I will "get started" in a future blog post).
The bottom line is, after all the millions of dollars, hours, and energies invested, with few real exceptions, the world hasn't changed at all, and very few individual lives have either.
Not one bit.
In fact, many would say the current "recession" is one of the worst on record, and others fear the worst is yet to come.
So here's the next million dollar question …
Why?
If the formulas are so powerful and magical, why hasn't the world, your life, and the lives of millions of others throughout the world changed?
There's gotta be a reason.
Stay tuned to this blog and I'll reveal the answer, step by step, over time, one piece at a time.
Subscribe to my blog posts (see upper right of this page) if you haven't already, so you're sure to get the answer.
Share this post with everyone you care about and leave a comment below if you're mad as hell about all the hyped up prosperity and abundance magic formulas failing, and you're fed up with pursuing dead ends.