In a recent post, I asked you to take an honest look at prosperity and abundance techniques and to see that the world and very few individual lives have actually changed after all the time, money, effort and energy invested in them.
Today I'm going to start a discussion of the "Big Why" behind that obvious fact. I say "obvious fact," because it IS what you see if you look closely, objectively, and with brutal honesty. Many people will not or cannot do that, of course, because they're mesmerized by lies, illusions and stories, and have an investment in certain beliefs being true.
We'll start with the 4 most obvious reasons why the manifesting abundance and develop an abundance mentality techniques fail, and then continue the discussion in future posts by diving into the less obvious reasons, which are actually far more important for us to discuss.
The 4 most obvious reasons why prosperity and abundance techniques fail …
Reason #1: People Don't "Do" Anything
This is one of those "Duh … of course" reasons, and yet it's rampant in the world, or what I now call "Story Space."
That is, people listen to an audio, watch a video, attend an event, read a book, discover techniques, but never apply them. There are zillions of reasons why they don't apply the techniques, but they don't, and therefore, nothing changes.
Reason #2: People "Do" Something In A Half-Assed Way Or Change The "Recipe"
This is rampant "out there" in Story Space too. Someone will discover a technique that has 5 steps, for example, and intentionally (or carelessly) skip the 4th step, only doing steps 1, 2, 3 and 5.
Or they look at the 5 steps, decide they "know better" than the expert they learned from, and alter one or more of the steps. They therefore change the "recipe" and are then surprised (interestingly enough) when the "cake" doesn't turn out correctly, or as "tasty" as they hoped.
Or, they take the new technique, and another technique they like or believe in or have an investment in, and try to cobble them together to create a new "super technique." By doing that, however, they again change the "recipe," and the cake rarely turns out well, even though many will insist the super technique is better.
There are many variations on this theme. You get the idea. You've probably done it yourself. I know I did in Phase 1.
Reason #3: People Are Profoundly Impatient And Give Up Too Soon
People who "sell" things are fond of making Big Promises about how fast a result can be produced using their magic bullet technique (which, by the way, I never do). As a result, many people are taught or conditioned to become what I call "profoundly impatient."
They want results "yesterday," and if they don't get them as fast as they'd like, as fast as they were promised, or as fast as someone else claimed to get the result, they abandon the technique and move on to the latest fad or flavor "super technique" of the day.
I could write a thousand blog posts about this one reason alone, but you get the idea. Again, it's likely you've fallen prey to this. I know I did, over and over, in Phase 1.
Reason #4: People Trust The Mind When They Shouldn't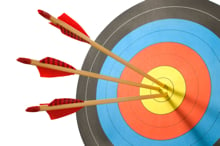 Most self-help, personal development, and success systems tell you to begin by setting goals. By "setting goals," they mean getting clear on what you want, getting very specific on what you want, and getting clear on when you want it.
You ask yourself questions, fill out forms, write freely on paper, create Vision Boards, whatever. That's the magic formula.
But here's the thing. Where do the goals come from? Where do the precise details come from? Where does the preferred timing come from?
The mind.
And what is the mind filled with? Mostly lies, illusions and stories that aren't True.
Therefore, what we pump through the super techniques is likely to be filled with lies, illusions, stories and distortion.
Therefore, for reasons I'll discuss in future posts, we don't get what we want, we don't enjoy it if we do get what we want (or our overall quality of life doesn't really change), or we get what we want, temporarily, but the change doesn't last.
Stay tuned as I go more deeply into this whole "why prosperity thinking techniques fail" dynamic.
Leave a comment below about how this resonates with you, if you've experienced what I shared above, etc. — and be sure to share, Like, tweet, go Google+1 it so other people you care about can join in the discussion about why prosperity and abundance techniques fail.
Chat again soon …